Community Lot: Sims 2 Food stands conversions | Terrain communautaire: Stand de nourriture convertis des Sims 2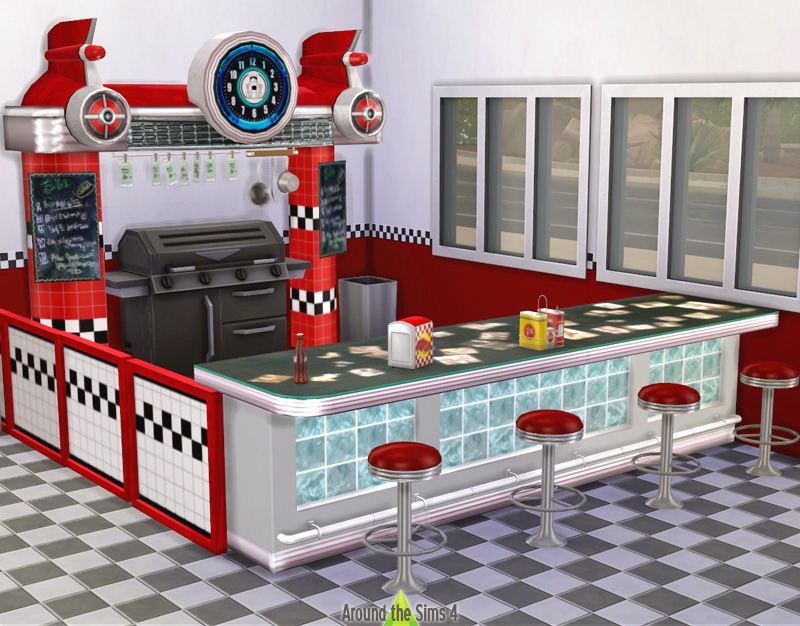 Donators' Privilege
: Download the whole set in one click | Privilège des Donateurs:
Téléchargement du set en un clic

All the files of the set can be downloaded for free below, one by one.. | Tous les fichiers du set peuvent être téléchargés gratuitement un par un ci-dessous.

Notes
I've been rediscovering the Sims 2 lately and I fell in love witb those amazing food stands the expansion pack "Bon Voyage" had given us! I wanted to recreate them in the Sims 4, but creating fences in this game is a nightmare (20 meshes...!), so instead of a real fence, I simply make them as sculptures, meaning you'll need to use the "bb.moveobjects" to place the gate, in a gap you'd let between "fences".
Je redécouvre tous les trésors des Sims 2 ces temps-ci, et évidemment, j'ai craqué pour les stands de nourriture/bar que l'expansion "Bon Voyage" nous avait procurés. J'ai eu envie de pouvoir les ré-utiliser dans mes autres jeux Sims alors j'ai tenté de les recréer. Mais créer des barrières pour les Sims 4 est une sacrée gageure (20 meshes!), alors je me suis rabattue sur une option plus facile: créer des sculptures avec fonction de barrières. Mais celles-ci rendront nécessaires l'utilisation du code "bb.moveobjects" si vous souhaitez utiliser un portillon, placé dans un espace libre entre deux barrières.
Downloads | Téléchargements
Tropical Food Stand | Stand Tropical

Mesh Details
(vertices/faces):
High Details: 3425/3916
Made with: TSR Workshop
Uploaded the: 2015, November 21st
Other version(s): Sims 3



Mesh Details
(vertices/faces):
High Details: 1826/1626
Low Details: 803/802
Made with: TSR Workshop
Uploaded the: 2015, November 21st
Other version(s): Sims 3


Fake Fence x1 | Fausse Barrière x1

New mesh in 1 variation, designed EA Sims 2 "Bon Voyage", adapted to the Sims 4 by Sandy

Mesh Details
(vertices/faces):
High Details: 180/192
Made with: TSR Workshop
Uploaded the: 2015, November 21st
Other version(s): Sims 3

Fake Fence x2 | Fausse Barrière x2

New mesh in 1 variation, designed EA Sims 2 "Bon Voyage", adapted to the Sims 4 by Sandy

Mesh Details
(vertices/faces):
High Details: 278/292
Made with: TSR Workshop
Uploaded the: 2015, November 21st

Gate | Portillon

New mesh in 1 variation, designed EA Sims 2 "Bon Voyage", adapted to the Sims 4 by Sandy

Mesh Details
(vertices/faces):
High Details: 180/192
Made with: TSR Workshop
Uploaded the: 2015, November 21st
Other version(s): Sims 3

Asian Food Stand | Stand Asiatique

Mesh Details
(vertices/faces):
High Details: 918/924
Made with: TSR Workshop
Uploaded the: 2015, November 21st
Other version(s): Sims 3



Mesh Details
(vertices/faces):
High Details: 1996/1454
Low Details: 973/630
Made with: TSR Workshop
Uploaded the: 2015, November 21st
Other version(s): Sims 3


Fake Fence x1 | Fausse Barrière x1

New mesh in 1 variation, designed EA Sims 2 "Bon Voyage", adapted to the Sims 4 by Sandy

Mesh Details
(vertices/faces):
High Details: 74/44
Made with: TSR Workshop
Uploaded the: 2015, November 21st
Other version(s): Sims 3

Fake Fence x2 | Fausse Barrière x2

New mesh in 1 variation, designed EA Sims 2 "Bon Voyage", adapted to the Sims 4 by Sandy

Mesh Details
(vertices/faces):
High Details: 148/88
Made with: TSR Workshop
Uploaded the: 2015, November 21st

Gate | Portillon

New mesh in 1 variation, designed EA Sims 2 "Bon Voyage", adapted to the Sims 4 by Sandy

Mesh Details
(vertices/faces):
High Details: 74/44
Made with: TSR Workshop
Uploaded the: 2015, November 21st
Other version(s): Sims 3

Diner Food Stand | Stand Diner Américain

Mesh Details
(vertices/faces):
High Details: 918/924
Made with: TSR Workshop
Uploaded the: 2015, November 21st
Other version(s): Sims 3



Mesh Details
(vertices/faces):
High Details: 2308/1872
Low Details: 1285/1048
Made with: TSR Workshop
Uploaded the: 2015, November 21st
Other version(s): Sims 3


Fake Fence x1 | Fausse Barrière x1

New mesh in 1 variation, designed EA Sims 2 "Bon Voyage", adapted to the Sims 4 by Sandy

Mesh Details
(vertices/faces):
High Details: 74/44
Made with: TSR Workshop
Uploaded the: 2015, November 21st
Other version(s): Sims 3

Fake Fence x2 | Fausse Barrière x2

New mesh in 1 variation, designed EA Sims 2 "Bon Voyage", adapted to the Sims 4 by Sandy

Mesh Details
(vertices/faces):
High Details: 148/88
Made with: TSR Workshop
Uploaded the: 2015, November 21st

Gate | Portillon

New mesh in 1 variation, designed EA Sims 2 "Bon Voyage", adapted to the Sims 4 by Sandy

Mesh Details
(vertices/faces):
High Details: 74/44
Made with: TSR Workshop
Uploaded the: 2015, November 21st
Other version(s): Sims 3

Log Cabin Food Stand | Stand Bûcheron

Mesh Details
(vertices/faces):
High Details: 1524/1500
Made with: TSR Workshop
Uploaded the: 2015, November 21st
Other version(s): Sims 3



Mesh Details
(vertices/faces):
High Details: 1660/1310
Low Details: 637/486
Made with: TSR Workshop
Uploaded the: 2015, November 21st
Other version(s): Sims 3


Fake Fence x1 | Fausse Barrière x1

New mesh in 1 variation, designed EA Sims 2 "Bon Voyage", adapted to the Sims 4 by Sandy

Mesh Details
(vertices/faces):
High Details: 124/104
Made with: TSR Workshop
Uploaded the: 2015, November 21st
Other version(s): Sims 3

Fake Fence x2 | Fausse Barrière x2

New mesh in 1 variation, designed EA Sims 2 "Bon Voyage", adapted to the Sims 4 by Sandy

Mesh Details
(vertices/faces):
High Details: 200/164
Made with: TSR Workshop
Uploaded the: 2015, November 21st

Gate | Portillon

New mesh in 1 variation, designed EA Sims 2 "Bon Voyage", adapted to the Sims 4 by Sandy

Mesh Details
(vertices/faces):
High Details: 124/104
Made with: TSR Workshop
Uploaded the: 2015, November 21st
Other version(s): Sims 3